The IITA-Climate Smart Agricultural Technologies (CSAT) project continues to advance with activities in Mali and Niger. CSAT Mali and CSAT Niger are working to scale climate-smart technologies in Sahelian regions and provide farmers with options for better adaptation to climate change. Also, the project is funding research to develop additional opportunities for better adaptation in increased resilience.
Being executed simultaneously in both countries and funded by the Kingdom of Norway, the project will run for five years, till 2024. CSAT Mali covers 32 communes under the Kayes, Koulikoro, Sikasso, and Segou regions.
On 23 October, the Ambassador of the Kingdom of Norway to Mali, His Excellency Vegar Brynildsen, visited the IITA-CSAT project activities in the Koulikoro region. IITA-CSAT Coordinator Tahirou Abdoulaye received the Ambassador and his team from the Norwegian Embassy.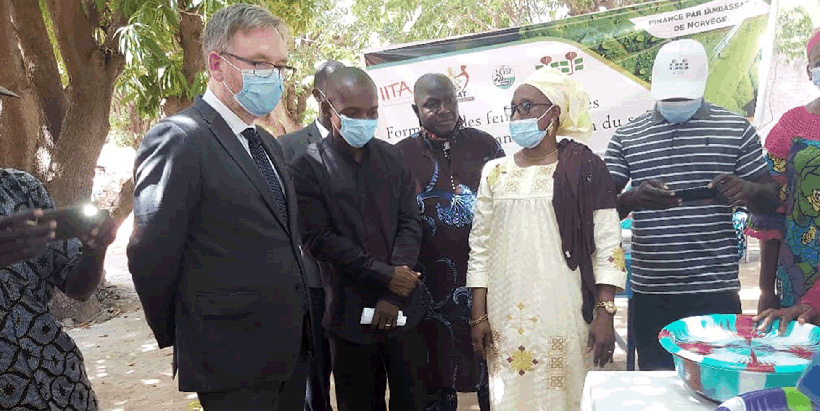 The day began with a courtesy visit to the Governor of the region. Accompanied by Abdoulaye and a representative of Malimark (NGO in charge of scaling activities), the Ambassador visited Mafeya in Meguetan commune. He highly appreciated the CSAT project's achievements, including demonstration plots of inoculated and non-inoculated soybean being introduced for crop diversification to reduce risk. The team also visited a plot of early maturing cowpea introduced for food security and incomes.
The visit continued with a meeting with a group of Koulikoro women learning how to process soybean. IER food technology laboratory, another project partner, led this activity. The women received training on the processing of soy milk and yogurt, couscous, soumbala (West African spice), and flour into food supplements for children. Soybean processing allows these women to have access to nutritious foods for their families. They can also process and sell these products, hence generating cash incomes for their households.
The IITA-CSAT team thanked His Excellency Brynildsen for dedicating his first-ever visit outside the city of Bamako to the project's activities. They considered this a testimony to the importance the Embassy places on agriculture and climate change and confirms their confidence in the quality of the work being carried out in the field by the project team.
Originally published on IITA.